What is the new gun for flexible partials?
A multiple functions system for flexible partial dentures
The new gun for flexible partial dentures is an equipment which can satisfy many appliances in the dental technician field so that patients can choose the best option for their personal case.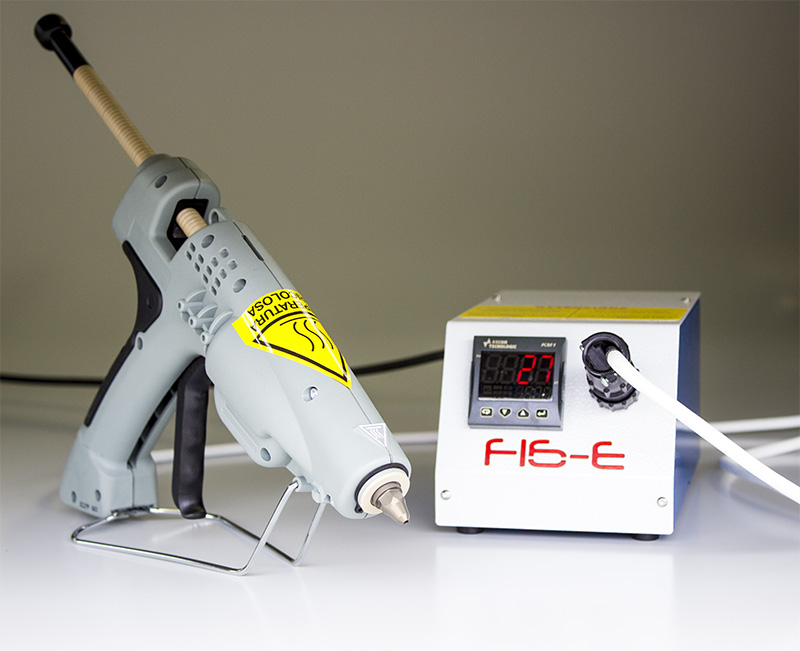 F16-E system in fact is able to offer a set of advantages which exclusively belong to the property of flexible partial dentures. Using this unique and innovative injector device, dental technicians can provide patients with comfortable, lightweight, metalfree flexible partials: no more metal clasps but tissue colored clasps designed to blend with natural dentition; any risk of breakage and fracture is gone forever and with F16-E system operators can easily and quickly process to rebase and add teeth in case modifications are necessary over time.
High technology for high precision
The main aspect which distinguishes F16-E injection gun is that it can be manually used to melt and inject the most variety of thermoplastic materials like wax, nylon, acetalic resin or any other injection material available worldwide. The force of F16-E is to be absolutely innovative and functional allowing dental technicians to make clasps, frameworks and more in a quick and easy way: they don't need to proceed with many steps and face long waiting times as materials must be put directly inside the gun without the use of any adaptor so that to obtain a regular and precise result.
Interaction with any flexible materials
F16-E is so far the only manual injection system that dental labs can purchase able to set and control the temperature depending on the flexible material used. A highly precise computer offers easy programming of injection temperature so that to have a regular heating process. F16-E allows to inject thermoplastic materials that require temperature up to 280° C.
F16-E injection kit includes:
− Injection gun, completely made with aeronautic technology
− CPU miniprogrammer to set the temperature required
− Accessories kit for a proper use and maintenance of the processing equipment